St Gregory's Campus


A panoramic view of the main campus viewed from in front of the Fine Arts Center. Click on the photo for a large scrolling version.
St. Gregory's University is in Shawnee, Oklahoma, about 25 minutes East of Oklahoma City. Below you will find Maps.
Virtual Tour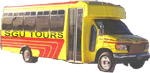 St Gregory's has a very nice Virtual Tour of many of their campus facilities. Click the tour bus to continue to take the tour.
If you want more information on the University or Abbey, please visit their web site at: http://www.sgc.edu/
Be sure and see the many activities available within just a short drive of St Gregory's University on the Area Activities Page.
Oklahoma City Area with Shawnee
Satellite Photo (appx 1995)